Tutso Mara

DECEASED

Master
Unknown
Rank
Jedi Knight/General
Padawan
Unknown
Species
Unknown
Tutso Mara was a Jedi Knight who was a friend of Barris Offee.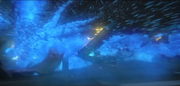 Apperances
Edit
Star Wars The Clone Wars
Edit
Season 5he died in the Jedi temples hanger.the explosion was caused by barris offee because she could see the Jedi falling at order 66.
Ad blocker interference detected!
Wikia is a free-to-use site that makes money from advertising. We have a modified experience for viewers using ad blockers

Wikia is not accessible if you've made further modifications. Remove the custom ad blocker rule(s) and the page will load as expected.