Obi-Wan Kenobi

DECEASED

Master
Qui-Gon Jinn
Rank
Jedi Master/General
Padawan
Anakin Skywalker
Species
Human

Obi-Wan Kenobi was a Jedi Master and member of the Jedi Council during the Clone Wars.
Battle Of Muunilinst
Edit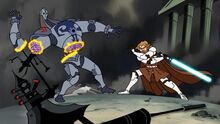 Following the Battle of Geonosis, Obi-Wan would aid in leading the attack against the Separatist Droid Army, which with the help of the Banking Clan had taken control of the planet Muunilinst. During the attack, Kenobi would lead the main attack against the Separatists, dawning Clone armor during the fight and confronting the bounty hunter Durge alongside Clone ARC Trooper Fordo.
Space Battle Of Christophsis
Edit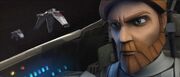 Ground Christophsis Battle
Edit
Battle Of Teth
Edit
Hunting The Melevolence
Edit
Destroying The Molevolence
Edit
Capturing Dooku
Edit
Escaping Capture
Edit
Battle Of Orta Pluntio
Edit
Return Of The Blue Shadow Virus
Edit
Finding A Cure
Edit
Battle Of Ryloth
Edit
Battle Of Felucia
Edit
Temple Hiest
Edit
Resucing The Younglings
Edit
2nd Battle Of Geonosis
Edit
Rescueing Eeth Koth Obi-Wan was told to rescue Jedi Master Eeth Koth
Edit
Rebellion On Madalore
Edit
Escorting Satine
Edit
Atempts On Satines Life
Edit
Pirates On Felucia
Edit
Hunting The Zillo Beast
Edit
3rd Battle Of Kaminio
Edit
Hunting Ziro The Hutt
Edit
Hunting Savage Opprress
Edit
Rescuing Even Piell
Edit
Hunt For Sifo-Dyas
Edit
Final Duel With Maul
Edit
Apperances
Edit
Star Wars:Clone Wars
Edit
Season 1
Season 2
Season 3
Star Wars:The Clone Wars
Edit
Season 1
Season 2
Season 3
Season 4
Season 5
Season 6
Legacy
Star Wars:Rebels
Edit