Luminara Unduli

DECEASED

Master
Unknown
Rank
Jedi Master/General
Padawan
Barriss Offee
Species
Mirilan
Luminara Unduli was a Jedi Master durring the Clone Wars
Attack On Ilum
Edit
Guarding Gunray
Edit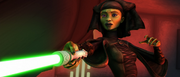 2nd Battle Of Geonosis
Edit
Order 66
Edit
Luminara some how survived the Battle Of Kashyyyk and Order 66 and immediately went into hiding.
Capture and Death
Edit
Some time after going into hidding Luminara was captured and imprisioned by the Galatic Empire in The Spire on Stygeon Prime. After her capture she was killed and her bones where used the lure in other surving Jedi thinking she was alive.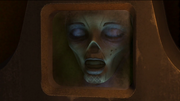 Apperances
Edit
Star Wars:Clone Wars
Edit
Star Wars:The Clone Wars
Edit
Movie
Season 1
Season 2
Season 4
Season 5
Season 6
Star Wars:Rebels
Edit
Ad blocker interference detected!
Wikia is a free-to-use site that makes money from advertising. We have a modified experience for viewers using ad blockers

Wikia is not accessible if you've made further modifications. Remove the custom ad blocker rule(s) and the page will load as expected.